Disclaimer: Dear readers, this entry contains examples of a virulent and suggestive Internet meme. Several, in fact. Viewers who scroll down will find pictorial innuendo and thinly abbreviated expletives. Discretion is advised.
Do ppl rly say OMG IRL?
I'm serious (srsly). Do people really say O-M-G in real life? Do girls in middle school mouth it to one another when their sportcoated history teacher goes off on a liberal tirade? Do teenage rock stars use it in interviews? Will it be Hillary's next gambit ("We should have a government blogging team!") to connect with the young people?
I live in Germany, so I don't get to sample much impromptu U.S. English. I get dribs and drabs from American Idol, but the closest spelled-out IRL abbreviation I've heard used there was Danny Noriega's amusing attempt to coin a new catchphrase out of T-M-T-H (Too Much To Handle).
When I see "omg" somewhere, or when I use it here to make a point, the deadpan reader voice in my head says something along the lines of "ohm'god," emphasis on the first syllable, same rhythm as "Gossip Girl."
Coincidentally, I guess the Gossip Girl PR team didn't hear it quite like I did: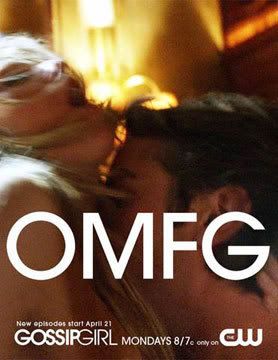 That's a long, drawn out Oh. My. F@$*&#$g. God.
But what if it's actually an O-M-F-G?
I really want to know! Especially since even before I came across this poster, I heard "O-M-G" used in a celebrity news report I lost one minute and thirty seconds of my life on last week. Don't let that time be in vain!
The network airing "Gossip Girl" in the United States has claimed that their ad campaign
speaks directly to our adult 18-34 viewers using expressions that are part of their lexicon.
But would that lexicon be spoken or written? What do you say when you read the thing out loud?
Tell me: is O-M-G just what the anchors on Extra are saying to sound like those kooky MySpace kids? Or is it really appearing in the vernacular? This is one incidence where the recency illusion won't come into play: I'll be hornswoggled if OMG has been around one minute longer than AOL.